Just as the Bible predicted, in the final days before the Rapture of the Church, there will be much disputing over God's holy city, Jerusalem. It is not even mentioned once in the Koran. Yet, Muslims are bound and determined to snatch it from the clutches of the Jews.
I have a little piece of advice for Abbas which I realize he will not take. Nevertheless, it must be said. God warns about what happens to those who mess with Jerusalem.
And it shall come to pass in that day, that I will seek to destroy all the nations that come against Jerusalem. (Zech. 12:9)
Read from
Now the End Begins
:
Abbas Declares Jerusalem The 'Eternal Capital Of Palestine'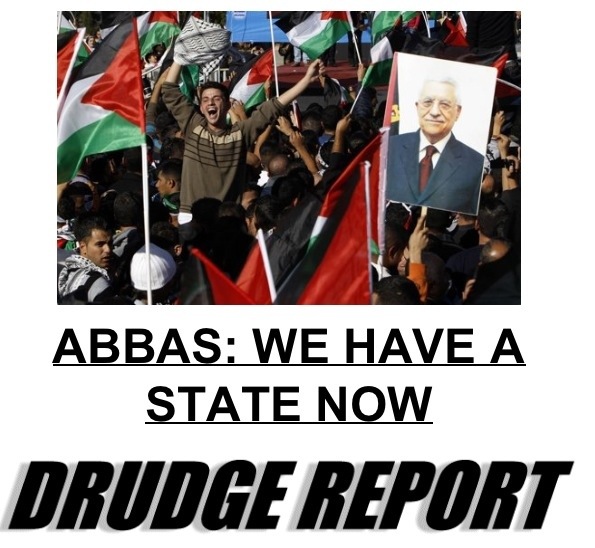 PA Chairman Mahmoud Abbas Sunday promised someday the PA flag would fly over "Jerusalem, eternal capital of the state of Palestine."
"And in that day will I make Jerusalem a burdensome stone for all people: all that burden themselves with it shall be cut in pieces, though all the people of the earth be gathered together against it." Zechariah 12:3
Thousands of people greeted Abbas rapturously upon his return from the United Nations, where the General Assembly granted the PLO, representing the PA, upgraded status as a nonmember observer state.
"Raise your heads high, because you are Palestinians!" Abbas told the joyous crowd, waving PA flags in the PA capital of Ramallah, located in Samaria.
"You have proof that you are stronger than the occupation, because you are Palestinians… stronger than the settlements, because you are Palestinians.
"We were threatened with punishment and sanctions from various sides," Abbas continued, in a reference to attempts by the United States and Israel to dissuade him from proceeding with the
application
.
"And if we had listened to those threats we wouldn't have gone to the U.N.
"
One day, a young Palestinian will raise the Palestinian flag over Jerusalem," he vowed, "the eternal capital of the state of Palestine!
"
source – Arutz Sheva