If this poor man dies, his blood is on your hands, Reverend Al Sharpton, Reverend Jesse James, and you thugs from the New Black Panthers. It makes me downright sick to think these two race baiters, Sharpton and Jackson, have the title "Reverend" before their names. We can also add your name to the mix, President Obama, because you threw in your two cents by suggesting that the death of Trayvon Martin was racially motivated.
Wasn't racial tension supposed to ease after the election of the first black president? Instead, it has greatly intensified. Is a race war on the horizon?
Read about a poor man from Alabama who was beaten nearly to death because he was white. Justice for Trayvon was the cause of the attack.
BTW, where is the American Pravda crying out for justice for this white victim?
Read from
The Blaze
: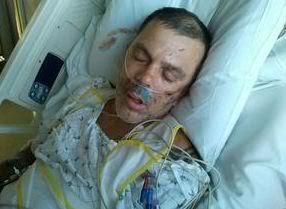 'JUSTICE FOR TRAYVON': ALABAMA MAN IN CRITICAL CONDITION AFTER MOB BEATING
"
WKRG-TV
:
Mobile police need your help to catch a mob that beat Matthew Owens so badly that he's in critical condition.

According to police, Owens fussed at some kids playing basketball in the middle of Delmar Drive about 8:30 Saturday night. They say the kids left and a group of adults returned, armed with everything but the kitchen sink.

Police tell News 5 the suspects used chairs, pipes and paint cans to beat Owens.

Owens' sister, Ashley Parker, saw the attack. "It was the scariest thing I have ever witnessed." Parker says 20 people, all African American, attacked her brother on the front porch of his home, using "brass buckles, paint cans and anything they could get their hands on."

What Parker says happened next could make the fallout from the brutal beating even worse. As the attackers walked away, leaving Owen bleeding on the ground, Parker says one of them said "Now thats justice for Trayvon."
A witness who wants to remain anonymous describes what he says he heard at his front door Saturday night, on Delmar Drive. "I just kept hearing him screaming, 'Man, I'm sorry, I'm sorry, man don't do this,' " he recalls.

On the other side of that door was Matthew Owen, who, police and neighbors say, was being beaten by a group of people. The weapons? Bricks, bats, even a paint can.

At first, when he heard his friend at the door, the man thought it was a joke. "Then I saw about 10 to 15 people from little kids and women with dresses to adult men, just flooding onto the property, surrounding the

car

, hollering and screaming," he says. "And then I heard Matthew saying, ' I'm sorry, man, I'm sorry. I'm sorry.' And then, the next thing, before I could get to the door, because we have it all deadbolted and everything, and before I could get it open, I heard all the beating and banging."
Even family and friends of Matthew Owens admit there was some tension on this street before Saturday night's event. And they say a lot of this has to do with basketball. Relatives of the victim, who live on the street, say local kids often block Delmar Drive when they play basketball. They say it's lead to some confrontations. Racial comments from both sides may have made the confrontations more toxic.