Oh goodie! The Muslim world is on fire, especially with the nuclear threat from Iran. We have only one ally in the region -- Israel, and we are not sharing full intelligence information with one another. I'd say that puts both Israel and the US in more danger.
Read from
Israel Matzav
:
Report: Obama won't commit to stopping Iran, US and Israel no longer sharing all Iran intelligence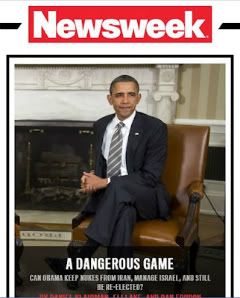 "Newsweek is reporting that
with Iran approaching a nuclear weapon, President Obama refuses to commit to Israel that he will go to war to stop Iran, and both Israel and the United States are withholding intelligence information from each other on Iran
. Newsweek also reports that while the Mossad tried feeling out Obama on Israel going it alone on Iran,
Obama regards his reelection as being at least as important
as the other prongs of his equation: handling Israel, keeping Iran from going nuclear and keeping world oil prices in check.
'Well before he moved into the White House, Barack Obama began talking to Israel about Iran's nuclear program, and even then there was mistrust. He met in 2008 with several leading Israelis, including Benjamin Netanyahu—before Netanyahu was elected prime minister—and impressed everyone with his determination to stop Iran from going nuclear. Netanyahu liked much of what he heard, according to a source in his inner circle. What troubled him, however, was that Obama didn't talk specifically about Israel's security.

Rather, he discussed Iran in the context of a broader non-proliferation policy. "He showed much command of the issues, even though it was months before he got elected," says the Netanyahu source. "It was clear that he read and internalized things. But when he spoke about Iran and his opposition to the nuclearization of Iran ... the Israeli factor did not play prominently
."'
That's a very accurate read of Obama, as we will see throughout - and have been seeing for the last five years.
Obama could care less about Israel
.
He does care about nuclear non-proliferation
. He wishes to avoid a war at all costs - including (God forbid) the destruction of the State of Israel.
'
According to an American official who was involved, [Mossad Director General] Tamir Pardo [who was in Washington recently. CiJ] wanted to take the pulse of the Obama administration and determine what the consequences would be if Israel bombed Iranian nuclear sites over American objections. Pardo raised many questions, according to this source: "What is our posture on Iran? Are we ready to bomb? Would we [do so later]? What does it mean if [Israel] does it anyway?" As it is, Israel has stopped sharing a significant amount of information with Washington regarding its own military preparations
.'
Israel stopped sharing that information in June
- shortly after Obama called on Israel to agree to give the 'Palestinians' everything outside the 1949 armistice lines before going to the table to 'negotiate.' There's a connection - not surprisingly. But let's see how we got to where we are today."
Much more
here
.