As you have probably heard or just read from the title,
Time
magazine has chosen its man for the year. No surprise -- it's the protester -- from the Occupy Wall Street thugs to those on the streets of Cairo fighting for "freedom".
I guess we can acknowledge that all of these protesters were a significant news story. But, where was
Time
magazine in 2009 and 2010 when the Tea Party was clearly one of the biggest news stories of both years?
Read from
Gateway Pundit
:
TIME Magazine's "Man of the Year
"
"TIME Magazine has named their Man of the Year, and it's…'The Protester'.
Do they mean this one?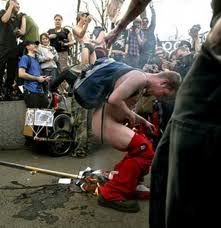 Or this one?
Occupy has resulted in a thousand arrests, several deaths, rapes, and widespread drug abuse. The cost to the public is in the millions for damage done to public property and they are still obstructing commerce and putting people out of work.
TIME Magazine's 'Man of the Year' has cost the American taxpayers a whopping…$22.2 MILLION, and counting!
From Verum Serum:
Taxpayers Get the Bill for Occupations: $22.2M (Updated 12/13)
The first man of the year to be on both the domestic terrorist watch list and the local police blotter for public indecency.
TIME Magazine does what it can for the Obama campaign."