Our nation, under the leadership of Barack
Hussein
Obama, is completely sold out to Islam. Yet, the Muslims have the nerve to complain that they are mistreated. Give me a break!! What planet are they living on?
From
Atlas Shrugs
:
NYC Riot for Supremacism: Muslims Demand End to Counter-Terror Measures
"Note all the women with the war scarfs. Yasser Arafat would be rubbing his hooves in glee.
Where are all the militant men?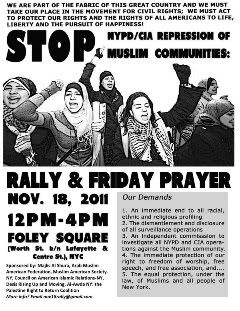 UPDATE
: Atlas reader Tom B queries:
Demand 1: An immediate end to all racial, ethnic and religious profiling.
Sounds laudable doesn't it?
Who made Islam a race, an ethnicity? This is another plank in the ship pf the demonization of all criticism of Islam.

Demand 2: The dismantlement and disclosure of all surveillance operations.
We are to submit, but it is not sufficient merely to dismantle, we must also disclose, so they are made aware of any chinks in their armour, where their security is weak and where there are informants for them to eliminate.

Demand 3: An independent commission to investigate all NYPD and CIA operations against the Muslim community.
In the their lexicon "independent" means "we want our place-men in on it". They don't mention the FBI - they think that they have already de-clawed and de-fanged that body. By "Muslim community" they mean the umma, worldwide. The CIA guards against external threats to US security. They make no mistake: they want to know what we know about links between their domestic and international organisations, and to supress or halt any sharing of intelligence by US law enforcement and security bodies that was instituted or improved post 9/11. Also, note the wording "against the Muslim community" - they don't want to be seen to be opposing actions preferring the security of all US citizens to their right to wage globalised jihad. The use of the word "against" is deliberate, implying that NYPD and CIA is exercising discrimination against Muslims rather than for all US citizens.

Demand 4: The immediate protection to our right to freedom of worship, free speech and free association.
The US Constitution and independent judiciary together are already sufficient to protect their rights, but they want recognition of special rights and they demand an act of submission to feed their supremacism. The undisclosed subtext? Their understanding of the word "worship" includes access for da'wah in schools, in the armed forces, in intelligence briefings... - in fact everywhere they choose, it includes the freedom to pay zakat to fund terrorist linked organisations and armed jihad operations, it includes the mosquing of the workplace and halting production lines for prayer times, and it includes the removal of all symbols of Christianity and Judaism from public view (after all they do have the right to pray in the street and stop traffic don't they). Their "free speech" includes hate speech such as the demonizing of Jews and vilification of gays, but of course excludes any and all criticism of Islam by kuffar. Their "free association" covers the continued functioning of known Muslim Brotherhood fronts.

Demand 5: The equal potection, under the law, of Muslims, and all people of New York.
Sounds laudable doesn't it?
But whose law, what law. US or Shariah? They carefully don't say
.'"