I can't think of a more racist group than the New Black Panthers, well Muslims, but we won't go there in this post. Did you ever hear their leader Malik Zulu Shabazz being interviewed? The man absolutely drips hatred toward whites; he doesn't even try to hide his feelings.
The NBPs not only despise whites, but they are anti-Semitic as well. Check this out from
New Zeal
:
"The New Black Panther Party doesn't like Israel much.
Regarding the Arab-Israeli conflict in the Middle East, NBBP leader Malik Zulu Shabazz has said:
'
The New Black Panther Party stands in 100 percent solidarity with the Palestinian people. As you know, we're strong opponents of Zionism. We're strong opponents of the U.S. policy of strictly supporting Israel. We find no legal or legitimate basis, really for the existence of the Zionist state. … I say to the Palestinian people to continue to stand up and continue to resist and never forget the blood of the martyrs that went before them
.'
At an April 2002 protest outside B'nai B'rith headquarters in Washington, DC, Shabazz reportedly said:
'Kill every g*****n Zionist in Israel! G*****n little babies, g*****n old ladies! Blow up Zionist supermarkets
'"
Wow! The NBPs are truly offensive in their rhetoric. Kinda reminds me of Obama's pastor, Jeremiah Wright.
Now, let me ponder something. Obama marched with the New Black Panthers in 2007, which is a news bulletin worth mentioning, though you won't hear about it from the media. Does that make Obama a racist? Sure sounds like it to me.
Where's the American Pravda on this story? Oh, that's right, our corrupt media is too busy accusing the Tea Party, and most recently Rick Perry, of racism to tackle obvious racism from Obama and his buddies in the New Black Panthers. Imagine if a Republican candidate had marched with the KKK.
Speaking of this hit-job on Perry, I guess we now know which candidate the American Pravda most fears. When is the last time you heard them attack Mitt Romney? They don't because they are trying to pick our GOP presidential candidate just like they did in 2008, and Romney's their choice. However, if he wins the primary, you can bet your bottom dollar that you will hear all about how weird Mormonism is, and you will hear it on a 24/7 basis.
Read from
Gateway Pundit
:
Mark Levin: Obama's Appearance With New Black Panthers Destroys Media's 'Perry Rock' Story (Video)
"Yesterday
Big Government
released photos of
Barack Obama marching with the New Black Panthers at a rally in 2007
.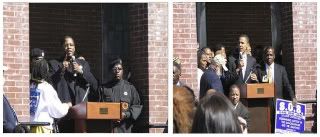 Shock Photos!
New Panther National Chief Malik Zulu Shabazz is seen speaking at the rally on the left. Then Obama speaks to the Selma crowd at the same rally.
Of course, the democratic-media complex completely ignored this story. They were too busy reporting on a racist rock that was spray-painted and then turned over at a camp where Rick Perry used to hunt with his father years ago.
Radio host Mark Levin told his audience yesterday that
the Obama New Black Panther story completely destroys the 'Perry Rock' story
.
He's right.
Via
Breitbart TV
:
Stacy on the Right
has more on the rock story."
The smears against Perry are so over-the-top that even Texas Democrats are defending him:
Texas Democrats Forcefully Defend Perry From WaPo Hatchet Job: "He Doesn't Have a Racist Bone In His Body"…