More fruit from the Occupy Wall Street protests. Lovely people -- these protestors.
From
Gateway Pundit
:
Obama-Endorsed #Occupy New Hampshire Activist Arrested For Pimping Under-Age Girls at Rally
"Yup. They're EXACTLY like the tea party.
An Obama-endorsed Occupy New Hampshire supporter was arrested for pimping teen girls at rallies
.
No justice. No peace.
The
Union Leader
reported:
'
A city woman is accused of pimping a 16-year-old girl she met in Victory Park during the Occupy NH demonstrations.

Justina Jensen, 23, of 341 Hanover St., is charged with felony prostitution. Police allege Jensen met a teen at the local protest, which is an offshoot of Occupy Wall Street, and used the Internet to arrange a first liaison for the girl with a man who turned out to be an undercover police officer.

Police said the teen's mother called them Thursday about noon to say her daughter was missing and that her photograph had been posted on a website advertising adult party entertainment.

Court documents show the mother told police she and a friend had used the website to negotiate a deal for the friend to pay for sex with the teen.

Investigators looked at the website and found the girl's photo posted there, along with pictures of three other women, in an advertisement offering men to "come and have fun with four beautiful ladies" in Manchester.

Police said a woman who called herself "Remy" negotiated a telephone deal for "Mad Mike" to pay $150 to have sex with the teen called "Jewel."
'
Related… Sadly, the Occupy Madison protesters lost their permit because they were masturbating in public."
Here is the article about the masturbating in public, via
Pundit Press
:
Occupy Madison Loses Permit Because Protesters were "Publicly Masturbating"
"Once again, I feel the need to point out that members of the Tea Party never did anything like this.
Occupy Madison has temporarily been denied an extension in their protesting permit because members of the movement violated '
public health and safety conditions.
' The group also did not properly fill out the form.
City officials cited several specific reasons for their decision. The most notable was repeated complains from a nearby hotel, which stated that
protesters were 'publicly masturbating' in full view of passersby
.
The city also cited health violations because the group had 'no restrooms,'
implying that the protesters may have been defecating in public as well
."
More
here
.
Speaking of defecating in public, check this out from
Gateway Pundit
:
Portland Police: Buckets of Excrement Scattered Around #OccupyPortland Camp, Officers Attacked, Stinky People
"Yup. They're just exactly like the tea party.
250 reports of stinky people – 450 reports of angry people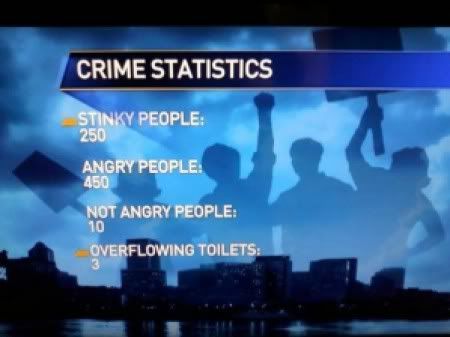 Graphic via
WWeek
and
Orbus Max
Here's is Monday's
police report
on #Occupy Portland:
10:30 a.m.: East Precinct officers were leaving the Multnomah County Courthouse when a woman, 39-year-old Angela Hallinger, threw a paintbrush at the officers because they would not stop and look at her art. The paintbrush hit one of the officer's pants and left paint on them. The subject then picked up the paintbrush and threw it again at them, just missing their heads. Officers were told that a Multnomah County Deputy District Attorney had reported that a woman was flashing her breasts at people. It was determined that it had been Hallinger, and she was arrested and booked in the Multnomah County Detention Center for Disorderly Conduct in the Second Degree and Criminal Mischief in the Third Degree.

During the same incident, officers found that the porta-potties on the south side of Chapman Square along Southwest Madison Street were overflowing and it appeared raw sewage was running down the sidewalk toward Southwest 3rd Avenue.

Afternoon shift:
On Monday's afternoon shift, there were multiple calls of various fights/disturbances.

6:35 p.m.: A very intoxicated/high subject was contacted at the corner of Southwest 3rd avenue and Main Street. It appeared that 25-year-old Dylan K. Hunter, was acting in a confusing manner and was on probation for Delivery of a Controlled Substance/ Methamphetamine. He was given a citation and transported to Hooper Detox.

6:45 p.m.: A sergeant took a phone call from a "donor" of two food boxes to Occupy and he wanted to complain that when they dropped off the food, he and his friend saw "buckets of human waste" sitting around the camp. This was very disturbing to the donor and his friend.

7:56 p.m.: Uniform officers responded to a call of a man causing a disturbance near the medical tent of "Camp A" (Lownsdale park). He was reportedly throwing things and knocking down fences. He was wandering around the Veterans Memorial, which is located in the center of the park.

Officers observed 35-year-old Devn Merner acting in a bizarre manner. He had red paint on his feet and torso. Occupy Portland peacekeepers were trying to talk to him while he displayed "fighting poses," but he refused their contact. Officers requested Project Respond to assist with this contact.

9:30 p.m.: Officers responded to a call regarding "5 subjects beating another subject," in the center of Chapman Square, by the drinking fountain. Officers could not find any victim or suspect and overheard people say everyone "ran off." Within a minute or two, district officers received another call of a fight at 3rd Avenue and Yamhill, similar to the one from the park. It appeared related, with the suspects chasing the victim through the blocks. As officers arrived, they were told by witnesses that the group was chasing the victim down Southwest 4th Avenue toward Burnside Street. It was reported as many as "15 street kids with skateboards" were chasing a shirtless subject.

11:59 p.m: A known subject, walked into Central Precinct to report an "assault." He reported someone had pointed a finger at him, and that was the assault. He made several alleged assault reports during this event. The subject returned 10 minutes later to report a "riot" at Occupy Portland. There was no riot in progress. The subject was told to leave, but initially refused
.'
And remember: This was just Monday's report."
Raw sewage flowing down the streets. Why these thugs are turning our beloved nation into a third-world country.