I'm no rocket scientist. But, if I knew that we were headed for hard-line Islam in Libya once Ghaddafi was forced out, why on earth did the smartest man to ever reside in the White House not pick up on that fact?
Jimmy Carter will always be remembered as the president to usher in the Islamic revolution in Iran, and now Barack Obama will be the key figure to usher in an Islamic caliphate throughout the Middle East and northern Africa. Somehow, I don't think ordering the killing of Osama bin Laden, Muammar Ghaddafi, and Anwar al Awlaki will ever offset the damage done by supporting and encouraging the Arab Spring. This is your baby, Mr. President. George W. Bush was nowhere in sight when all this came about.
Read from
Gateway Pundit
:
Surprise!… Libya to Introduce Radical Islamic Law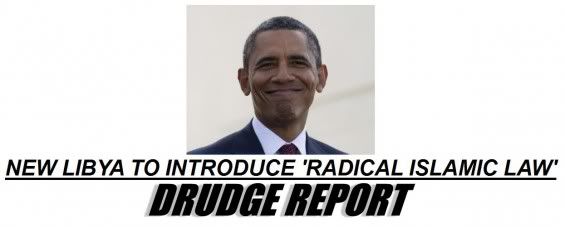 "The chairman of the National Transitional Council aanounced today that
the country would use Islamic law in the government and banking systems
.
The
Telegraph
reported:
'Mustafa Abdul-Jalil, the chairman of the National Transitional Council and de facto president, had already declared that Libyan laws in future would have Sharia, the Islamic code, as its "basic source".

But that formulation can be interpreted in many ways – it was also the basis of Egypt's largely secular constitution under President Hosni Mubarak, and remains so after his fall.

Mr Abdul-Jalil went further, specifically lifting immediately, by decree, one law from Col. Gaddafi's era that he said was in conflict with Sharia – that banning polygamy.

In a blow to those who hoped to see Libya's economy integrate further into the western world, he announced that in future bank regulations would ban the charging of interest, in line with Sharia. "Interest creates disease and hatred among people," he said.

Gulf states like the United Arab Emirates, and other Muslim countries, have pioneered the development of Sharia-compliant banks which charge fees rather than interest for loans but they normally run alongside western-style banks…

…Libya is already the most conservative state in north Africa, banning the sale of alcohol. Mr Abdul-Jalil's decision – made in advance of the introduction of any democratic process – will please the Islamists who have played a strong role in opposition to Col Gaddafi's rule and in the uprising but worry the many young liberal Libyans who, while usually observant Muslims, take their political cues from the West
.'
Related… Only
41% agree
with Obama's decision to take military action in Libya."
More bad news, also from
Gateway Pundit
:
Arab Spring… Islamist Party Set to Win Tunisian Elections Today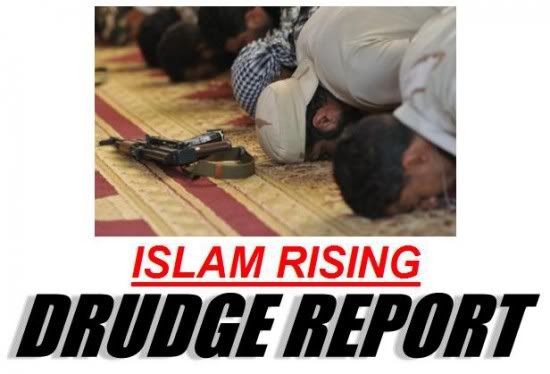 "A year ago, Tunisia was a moderate pro-Western nation.
Fast forward to this week —
The Islamist Party is expected to win the Tunisian elections today
.
Thanks Barack.
The
BBC
reported
'
Voting has begun in Tunisia in the first free election of the Arab Spring, nine months after the fall of former President Zinedine el Abidine Ben Ali.

Voters will elect a 217-seat assembly that will draft a new constitution and appoint an interim government.

Islamist party Ennahda is expected to win the most votes, though it is not clear if it will gain a majority.

Mr Ben Ali fled Tunisia on 14 January amid the first of several mass uprisings across the Arab world.

Campaigning in Tunisia has been marked by concerns over splits between Islamists and secularists, party funding and voter apathy.

But early indications are that turnout will be high. Many voters emerged from polling stations holding up blue-stained index fingers – proud to show they had cast their ballots
.'"
Mr. President, you are doing one heck of a job furthering America's interest in the Muslim world. It's almost as if you were the head cheerleader for the Islamists. Oh, that's right -- you are.