Why am I not surprised? The Islamists and the Hard Left both share the same hatred for the United States of America, its freedoms and way of life, and Israel. That being said, it only makes sense that they would join forces toward their shared goal to destroy America.
Read from
Weasel Zippers
:
Leftist Radicals Leading Occupy Chicago Under Investigation By FBI For Terror Links…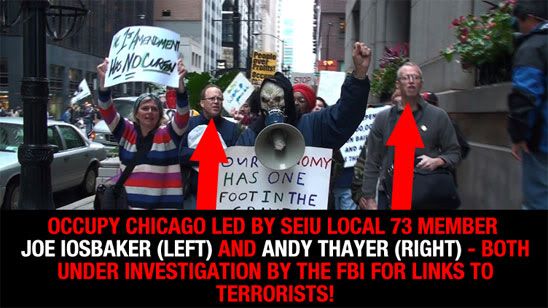 "Via Rebel Pundit:
Today Occupy Chicago protesters stormed City Hall to let Mayor Rahm Emanuel know their displeasure in the recent arrests of the Occupy campers at Grant Park on Michigan Avenue.

They were lead by radical anti-war activists Joe Iosbaker and Andy Thayer, who we have reported on in the past for their ongoing investigations by the FBI. In September of 2010 they were targeted for suspicion of providing material support to Hamas, the F.A.R.C. and other terrorist organizations
.'
Keep reading…
"