Wow! That didn't take long at all. Rick Perry is bulldozing his way past the frontrunner, Mitt Romney, in a recent poll. I expected him to gain traction, but had no idea he would take off so fast. Perry had better man up because they will be coming at him from both sides of the aisle.
Check it out, via
Weasel Zippers
:
Shock Poll: Perry Has Double Digit Lead Over Romney, 29% To 18%, Bachmann Third At 13%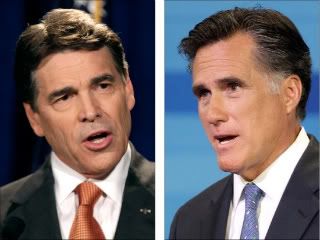 "Expect Romney's smear machine to start feeding anonymous quotes to the MSM (looking at you Politico).
(
Rasmussen
) — '
Texas Governor Rick Perry, the new face in the race for the 2012 Republican presidential nomination, has jumped to a double-digit lead over Mitt Romney and Michele Bachmann with the other announced candidates trailing even further behind.

The latest Rasmussen Reports national telephone survey of Likely Republican Primary voters, taken Monday night, finds Perry with 29% support. Romney, the former Massachusetts governor who ran unsuccessfully for the GOP presidential nomination in 2008, earns 18% of the vote, while Bachmann, the Minnesota congresswoman who won the high-profile Ames Straw Poll in Iowa on Saturday, picks up 13%.

Texas Congressman Ron Paul, who was a close second to Bachmann on Saturday, has the support of nine percent (9%) of Likely Primary Voters, followed by Georgia businessman Herman Cain at six percent (6%) and former House Speaker Newt Gingrich with five percent (5%). Rick Santorum, former U.S. senator from Pennsylvania, and ex-Utah Governor Jon Huntsman each get one percent (1%) support, while Michigan Congressman Thaddeus McCotter comes in statistically at zero
.'"
Here's an interesting read, via
Hot Air
:
Rick Perry and Texas Job Numbers
And this:
Seventeen (17) things that critics are saying about Rick Perry