What a bummer! An overwhelming majority of Americans cannot relate to the president when it comes to his pro-Palestinian position.
I can't imagine why Americans do not side with the savages who grieved at the death of Osama bin Laden and cheered in the streets when they heard about 9/11.
From
Gateway Pundit
:
FAIL. Americans Disagree With Obama – Support Israel Over Hamas-Fatah Alliance
"Once again far left President Barack Obama stunned the nation last week with another radical policy shift.
Once again the far left Obamedia
completely agreed
with him
.
Last week Barack Obama proposed
handing over
half of Jerusalem, the Wailing Wall, The Temple Mount, Old Jerusalem, and
The Church of the Holy Sepulchre
to
Hamas-Fatah terrorist alliance
.
Of course, this radical position is very unpopular with a great majority of Americans.
Unlike Obama, most Americans support Israel over the Palestinian terrorist front
.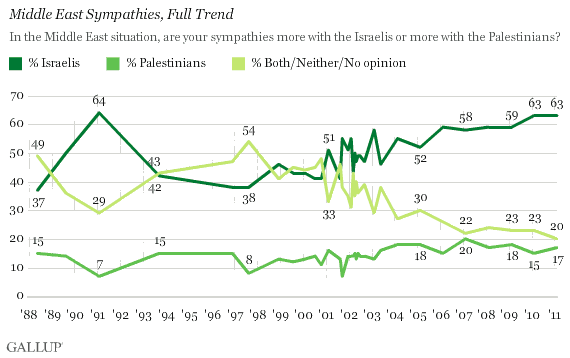 (Click on the picture to get the full results. When I reduced its size, it was too small to read.)
A near record-high 63% of Americans continue to say their sympathies lie more with the Israelis. Only Seventeen percent sympathize more with the Palestinians.
This poll was taken only two months ago."