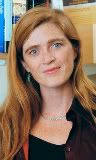 While Kathleen Sebelius is the evil
abortion enabler
who works with the
infanticide-supporter
President Obama, Samantha Powers is the evil Israel-hater who just happens to be a woman after Obama's own heart.
Get to know her better, via
National Review
. It's a very long article, so I will only highlight a portion of it. Be sure to read the rest.
Samantha Power's Power
On the ideology of an Obama adviser
"A member of the president's National Security Council who shares Noam Chomsky's foreign-policy goals? An influential presidential adviser whom
1960s revolutionary Tom Hayden treats as a fellow radical
? A White House official who wrote a book aiming to turn an anti-American, anti-Israel, Marxist-inspired, world-government-loving United Nations bureaucrat into a popular hero? Samantha Power, senior director of multilateral affairs for the National Security Council and perhaps
the principal architect of our current intervention in Libya
, is all of these things.
These scary-sounding tidbits might be dismissed as isolated 'gotchas.' Unfortunately, when we view these radical outcroppings in the full sweep of her life's work,
Samantha Power emerges as a patriot's nightmare — a woman determined to subordinate America's national sovereignty to an international order largely controlled by leftist bureaucrats. Superficially, Power's chief concern is to put a stop to genocide and 'crimes against humanity
.' More deeply, her goal is to use our shared horror at the worst that human beings can do in order to institute an ever-broadening regime of redistributive transnational governance.
Knowing what Samantha Power wants reveals a great deal about Barack Obama's own ideological commitments. It's not just a question of whether he shares Power's long-term internationalist goals, although it's highly likely that he does. Power's thinking also represents a bridge of sorts between Obama's domestic- and foreign-policy aspirations. Beyond that,
Power embodies a style of pragmatic radicalism that Obama shares. Both Obama and Power are skilled at placing their ultimate ideological goals just out of sight, behind a screen of practical problem-solving
.
[...]
If anything, these reports may underplay Power's influence on Obama. The two
met in 2005
, when
Obama contacted Power after reading her Pulitzer Prize–winning book on genocide, A Problem from Hell. Power quickly became then-senator Obama's senior foreign-policy adviser, and so has a longer history with the president than do many others on his foreign-policy team
.
A survey of Power's writings indicates her long preoccupation with a series of issues now associated with Obama's most controversial foreign-policy moves. In a 2003 piece for the
New York Times
, for example,
Power bemoaned the reluctance of American policymakers to apologize to other countries for our supposed past mistakes
. While Obama's controversial (and so far unproductive) willingness to engage with the leaders of rogue states was initially attributed to a novice error during a 2007 debate with Hillary Clinton,
the need to deal directly with even the worst rogue states is a major theme of Power's second book
,
Chasing the Flame
. That book was written in 2007, while Power was advising Obama's presidential campaign. A 2007 piece by Power in
The New York Times Book Review
attacked the phrase 'War on Terror,' which of course the Obama administration has since dropped
.
[...]
Nowhere is this pattern of disguise and contradiction more evident than on the topic of 'American exceptionalism.' Supposedly, Obama's address on Libya, with its invocation of America's distinctive tradition of shouldering moral burdens throughout the world, gave the lie to those who have described the president as a critic of the concept. And Power's work is filled with invocations of America's unique leadership role in the world. But read carefully,
her hymns of praise to American leadership all turn out to be calls for the United States to slowly devolve its power to international bodies
. After all, the world's foremost state would have to assume leadership of any process whereby its own power was gradually dismantled and handed off to others. This is essentially what Power is calling for, even as she frames the diminishment of America in superficially patriotic terms. Is Obama doing the same? I believe he is.
[...]
FROM INTERVENTION TO WORLD GOVERNMENT
A long conversation with Power in 2003 convinced 1960s revolutionary Tom Hayden that she was a fellow-traveler of sorts, even if Power was not as systematically suspicious of American military force as a true Sixties-vintage radical would be. In Hayden's assessment, Power's originality was
'to see war as an instrument to achieving her liberal, even radical, values
.' Hayden was right. The important thing about Power is not that she favors humanitarian intervention, but that
she seeks to use such military actions to transform America by undoing its sovereignty and immobilizing it, Gulliver-style, in an unfriendly international system
.
Samantha Power has a lot to teach us about Barack Obama. She herself
draws analogies
between the need to redistribute wealth via health-care coverage and the need to divide military and diplomatic power (and, implicitly, wealth) more evenly through the international system. Power regularly
invokes arguments
for international law derived from America's Founders and the West's great liberal thinkers,
as if her goal were the founding of a government of the world. In truth, that is what Power is up to
, even if she sees her project as a long-term collective effort necessarily extending beyond her own lifetime.
The novel doctrine of 'responsibility to protect,' which Power means the Libyan action to enshrine in international law,
could someday be used to justify military intervention to impose a 'two-state solution' on Israel (apparently this is one of Power's longstanding goals, although she now disavows it
).
The International Criminal Court, which Power has long defended, may someday enable the leftist Europeans who run it to place American soldiers and politicians on trial for supposed war crimes
. The Obama administration's
troubling acquiescence
in the development of sweeping international prohibitions on 'aggression'
may one day make virtually any use of force not pre-approved by the United Nations subject to international sanctions
. These are the long-term goals of Power's policies, although they are seldom confessed or discussed.
On rare occasions, Power comes straight out and
admits
that
the sorts of interventions she favors constitute an almost pure cost to American national interest
, traditionally defined. More often, she retreats into the language of 'pragmatism' and 'self-interest' to justify what she knows Americans will not support on its own terms. That is Samantha Power's way and, not coincidentally, Barack Obama's way as well.
At some point, after we've all done our best to fit the president's puzzling Libyan adventure into our accustomed conceptual frameworks, we just might wake up and discover what has been going on behind the curtain. When we do, the answer will be found in the writings of Samantha Power."