In case you were wondering.....
From
Weasel Zippers
:
Graph: What Planned Parenthood Spends Its Time Doing
…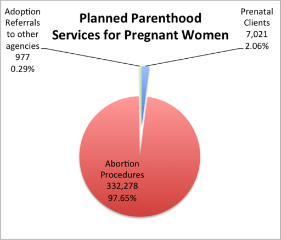 "Slaughterhouse.
(
Washington Examiner
) — '
Sen. Jon Kyl, R-Ariz., has deservedly taken plenty of flack in the last two days for making up numbers on the Senate floor and then explaining that his comments 'were not intended as a factual statement.'

But when liberals rebut Kyl's made-up numbers about what Planned Parenthood does, they point to the numbers Planned Parenthood provides [pdf], which Washington Post blogger Ezra Klein posted in pie-chart format, at right.

These numbers are incredibly misleading, and should not be taken as a factual statement.

First, let's use Planned Parenthood's own terms, and break out the services the provide for pregnant women (see above).

In brief: If a pregnant woman walks into a Planned Parenthood, she almost always walks out no longer pregnant
.'
Keep reading
…"