If the Republicans want to beat Obama in 2012, they had better come up with a candidate who can excite the conservative base. Romney, Gingrich, Pawlenty, and company do not do that. Palin does, but she cannot win. The American Pravda has successfully portrayed her as too stupid to be president, and I don't think she can overcome the labeling.
Herman Cain is a true conservative who has strong communication skills. His race is an advantage against Obama because the charge of racism would finally be put to rest. And best of all, he arouses excitement, whereas most of the other GOP candidates bore us. However, he has one huge problem: nobody knows who he is.
Meet the awesome Herman Cain, via
Weasel Zippers
:
Herman Cain: "It's Not Planned Parenthood — It's Planned Genocide"…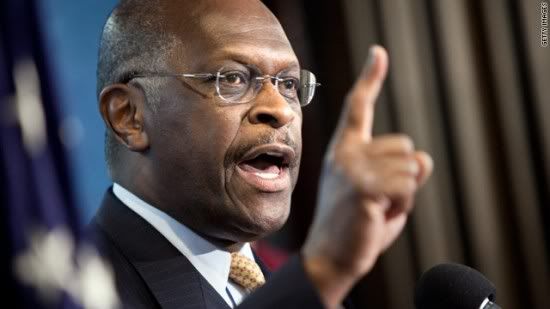 "And it's taxpayer funded.
Washington (CNS
) — '
Likely Republican presidential candidate Herman Cain supports ending all federal funding to Planned Parenthood, an abortion business that he said was founded to target African Americans and is continuing that mission.

"Here's why I support de-funding Planned Parenthood, because you don't hear a lot of people talking about this, when Margaret Sanger — check my history — started Planned Parenthood, the objective was to put these centers in primarily black communities so they could help kill black babies before they came into the world," Cain told CNSNews.com on Tuesday when speaking at the conservative Heritage Foundation.

Cain's comment was in response to a question from CNSNews.com about whether the Republican-controlled Congress should vote against any federal tax dollars for Planned Parenthood.

"You don't see that talked that much about," said Cain. "It's not Planned Parenthood. No, it's planned genocide. You can quote me on that."

Cain, an African American and the former CEO of Godfather's Pizza, is a columnist, author, talk-radio host, and a tea party activist. He has established an exploratory committee for the 2012 presidential race
.'"