The Islamists are now taking advantage of the desperate state in which the Haitians have found themselves after their devastating eathquake last month. Sure, the Haitians could use food, water, and other assistance from all nations willing to deliver, but is it necessary to send the provisions via jihadists? The Haitian people have suffered enough, do we really want them to be subjected to the following?
Read from
Creeping Sharia
, via
Jihad Watch
:
Islamist groups set up camp in Haiti
(video)
"'Why is wearing jeans and riding a moped without a headscarf
now a problem for a woman in Banda Aceh
, the Indonesian city devastated by the tsunami of December 2004?'
The answer is sharia law. Could a similar disaster be headed to Haiti
?
If you think it's not possible, consider that
numerous Islamist organizations are now operating on the ground in Haiti and at least one group that was active in Aceh, Islamic Relief USA, has established an Islamic administered camp in Haiti.
See the image and video below.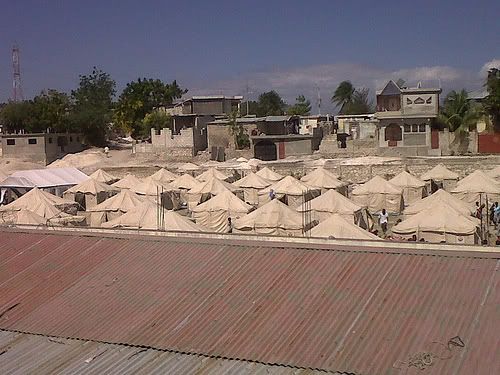 Islamic Relief tent city in Haiti
The Ikhwan is represented in Haiti by unindicted co-conspirators to the largest Islamic terror financing trial in the U.S., ISNA,
who is distributing funds and
identifies
other Islamist groups also on the ground in Haiti:
'The Islamic Medical Association of North America (IMANA), one of ISNA's constituent organizations, already has a team of physicians operating on the ground. It will send another team by this weekend, and is forming more teams to go to Haiti. ISNA is sending $20,000 to IMANA to help meet the immediate need of medical care for the thousands of injured.

Islamic Relief USA aid workers are in Haiti distributing food and water. They are also assessing other projects to help the suffering. ISNA is sending $15,000 to Islamic Relief to help in their efforts on the ground.

Zakat Foundation of America has a team in Haiti distributing food, water and medical supplies. Even before the earthquake, Zakat Foundation had workers in Haiti supplying food to the hungry. ISNA is sending $15,000 to Zakat Foundation to facilitate their work
.'
Who is
AMANA
?
'IMANA was named in a May 1991 Muslim Brotherhood document –titled "An Explanatory Memorandum on the General Strategic Goal for the Group in North America" — as one of the Brotherhood's likeminded "organizations of our friends" who shared the common goal of destroying America and turning it into a Muslim nation
.'
Also recall that
zakat is intended in part to fund jihad.
More on Islamic Relief USA below.
ICNA, the Islamic Circle of North America, another Islamist group with radical ties whose goal is to recruit converts to Islam through dawah, is also operating on the ground in Haiti
. Through its Helping Hands USA subsidiary, ICNA will hold a fundraising
telethon
for Muslims to donate to Haiti. The group clarified all Haitian mosques are still standing.
'"
We have set up our medical base camp with medicine and doctors. Even though we have more doctors and relief efforts are getting more organized, we are still working in emergency mode," said Irfan Khurshid, Helping Hand USA Director of International Programs, who is coordinating relief efforts from Port-au-Prince, Haiti.

Alhamdulillah, there are four Masajids and one musallah where people pray and by the grace of Allah, all four Masajids are safe and standing
.'
CNN aired a glowing segment on Islamic Relief USA, but failed to mention exactly who and what Islamic Relief USA is
. From
DtN
:
'The aforementioned IRW-USA was incorporated in 1993. In addition to its California headquarters, it also maintains regional offices in Totowa, New Jersey, Washington, D.C. and Plano, Texas. The Registered Agent for its incorporation was Kazbek Soobzokov, the former attorney for terror operative Wajdi Ghunaim, who in 2006 called for violence against Jews, was deported from the United States, and was refused entry into Canada after it was discovered that he was a member of Hamas and the Muslim Brotherhood.

In 1999, IRW's main office (in England) received $50,000 from a Canadian group that the U.S. Treasury Department called "a bin Laden front." According to Moscow's Obshchaya Gazeta, IRW has collected and funneled millions of dollars to the Chechen terrorist rebels in Russia, who also have ties to al Qaeda
.'
More from
Militant Islam Monitor
:
'MIM: According to Michelle Malkin, Islamic Relief in Burbank accepted $50,000 dollars from an alleged Bin Laden front group at it's UK office:

Here is a quote from the book called "INVASION" How America still welcomes terrorists, criminals, and other foreign menances to our
shore." By Michelle Malkin. page 18 "Buy a high tech ticket"

Data from the United States Department of Labor reveals that four Muslim charities under federal investigation for ties to terrorism
applied for high tech, or H1-B visas, on behalf of at least sixteen workers over the past years. Three of the charities-the Global Relief
Foundation of Bridgeview, Illinois, the Holy Land Foundation for Relief and Development in Richardson, Texas, and the Benevolence
International Foundation of Palos Heights, Illionois-had their assets frozen by the Treasury Department after September 11 attacks. The
fourth, Islamic Relief Worldwide in Burbank, California, accepted $50,000 from an alleged bin Laden front group at its British office, according to Treasury officials."
'"
More
here
.