As bad as the groping by the TSA is for travelers, perhaps we should show more concern as to whom is employed by the TSA. Not only do we need profiling for airline passengers, but we need profiling for those who examine travelers.
Let's be honest here. Nearly all terror attacks are carried out by Muslims, and they are not the secular ones, but instead the devout Muslims, the ones who actually read the Koran and follows its jihadist commands. Now, correct me if I'm wrong, but don't the burkha-clad females fall into the category of devout Muslim women? Can we trust them to stop a fellow Muslim with evil intentions from boarding our aircraft? I don't think so. At some point, security should be a higher priority than political correctness, after all, some of the potential victims are likely to be liberal Muslim apologists.
Check this out from
Israel Matzav
:
Feel safe yet?
"So does this make you feel safe? (Hat Tip:
Atlas Shrugs
). Yes, the picture is real and not a photoshop.
I believe it's Newark Airport
.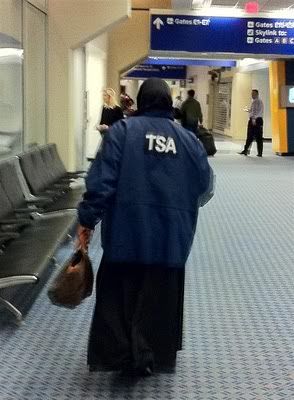 By the way, I'd say
a third to a half of the security agents at London Heathrow look like this.
Doesn't that make you feel secure? On the way over here, after a flight from Tel Aviv to London and a seven-hour layover, I got pulled aside for questioning. The moron asked me if I had any checked bags, and I said I had checked one. They then asked me if I had packed it myself. A little late for that, isn't it, given that the airport authorities had it from 4:00 am to 6:00 pm London time and it had already flown over 2,000 miles. They then opened my laptop and showed that they were totally clueless about what to look for (stared at it, but did not turn it on, which is what an Israeli security agent would have done if s/he were suspicious).
Isn't international travel great?"