Time to get out the scales. The American Pravda was totally beside itself over the Florida pastor who threatened to burn a Koran. Now, we hear about a Christian evangelist in Pakistan (the land which revels in the persecution of Christians) who was actually burned for daring to be an infidel. Media outrage? Nope. Who cares about a Christian evangelist tortured for his faith? Certainly not the leftwing media.
Now, I ask you, which of these two stories deserves the greatest outrage?
From
Atlas Shrugs
:
Muslims in Pakistan Burn, Beat Evangelist Unconscious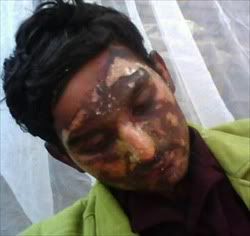 "Nothing to see here, folks. Keep moving ......
More from the religion of peace.... RESPECT IT!
A Presbyterian minister was beaten, burned and left for dead by six Muslims in Pakistan on his way home from preaching at a nearby church. The police are refusing to investigate, because the Muslims involved are the sons of a powerful land owner. The police have allegedly been bribed, or perhaps they, too, are devout and pious Muslims
.
Muslims in Pakistan Burn, Beat Evangelist Unconscious
(hat tip Danielle B)
Police decline to name suspects in attempted murder.

SARGODHA, Pakistan, December 13 (CDN) — An evangelist is still recovering from burns after six young Muslim men beat him with clubs and belts and set him on fire last month in a village near this Punjab Province city, the Christian told Compass.

Area Christians said they found the Rev. Wilson Augustine, 26, of Village No. 44-SB, unconscious with burns on his head, hand and arm on Nov. 22 near the bus stop of Village No. 101-NB on the outskirts of Sargodha.

Christian elders Austin Masih and Nadeem Samuel of nearby villages said that Augustine, who was ordained in a small Presbyterian church in Village No. 44-SB, was distributing pamphlets and proclaiming Christ door-to-door the previous day among Christian families of villages Nos. 79-NB, 98-NB, 99-NB, 96-NB and 101-NB some 25 kilometers (15 miles) southeast of Sargodha.

Rustam Masih, a Christian from Village No. 99-NB, told Compass that Augustine was going door-to-door in Village 96-NB when the sons of a powerful local land owner saw one of the pamphlets. Augustine later identified the six as Muhammad Usman Ghani, Muhammad Taha Khan, Talha Mehmood, Nisar Warriach, Zareen Cheema and Jamshaid Ali Ansari.
'
Photo: Muslim villagers opposed to the evangelism of the Rev. Wilson Augustine, 26, burned his face, hand and arm."
BTW, Diogenes, remember the severe flooding that took place a few months ago in Pakistan? That was God's judgment on the Islamic nation for its harsh treatment of His people. With Pakistan's track record, there will much more to come.