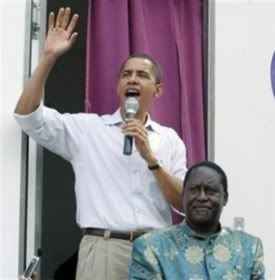 Anybody remember this dude? Raila Odinga, the prime minister of Kenya and friend of Obama who happens to
support Sharia law
.
I wonder what Obama's gay supporters would think if they knew that he campaigned for a man who has ordered the arrest of homosexuals. No need to worry though because with our corrupt American Pravda, how would they find out?
Read from
Weasel Zippers
:
Kenyan Prime Minister Obama Campaigned For Orders Police to Arrest All Homosexuals
…
"Nice job, Barack…
NAIROBI, Kenya, Nov 28
– '
Prime Minister Raila Odinga has ordered a nationwide crackdown on homosexuals in Kenya.

Mr Odinga on Sunday said that police should arrest anyone found engaging in such behaviours and take appropriate legal action against them.

"We will not tolerate such behaviours in the country. The constitution is very clear on this issue and men or women found engaging in homosexuality will not be spared," Mr Odinga said.

"Any man found engaging in sexual activities with another man should be arrested. Even women found engaging in sexual activities will be arrested," the premier warned.

Speaking at a public rally at the Kamukunji grounds in his Nairobi's Kibera constituency on Sunday afternoon, the Prime Minister cited the recent population census results which put the ratio of men to women equal and wondered why people should engage in homosexuality.

"This [homosexual] kind of behaviours will not be tolerated in this country. Men or women found engaging in those acts deserve to be arrested and will be arrested," he told a hilarious crowd
.'
Via
I Hate The Media
who adds:
'We'd be willing to bet that most Americans don't know that Raila Odinga, Barack Obama's cousin, is the new Prime Minister of Kenya. Nor that he's an avowed socialist. Nor that Obama went to Kenya to campaign for him. Nor that he's virulently anti-gay
.'"
UPDATE
: Admittedly, the Obama-Odinga family tie is questionable, but Obama did indeed
appear with Odinga in August 2006
. Why?
UPDATE
: How innocent was the relationship between Obama and Odinga? Was it really as simple as Diogenes lets on? You be the judge.
Watch this video from
Atlas Shrugs
: