Cool!! Israelis hurl shoes at the photo of Obama showing the soles of his shoes to Benjamin Netanyahu during a phone conversation. In the Middle East, showing the soles of shoes is considered to be a great insult.
From
Gateway Pundit
:
Israelis Chuck Shoes & Eggs At "Obama" in Protest
"More Hope and Change…
An Israeli right wing protestor points a shoe towards a poster of U.S. President Barack Obama during a protest which was attended by a few dozen protestors against Obama's policy towards Israel opposite to the US Embassy in Tel Aviv. October 11, 2010. (
REUTERS
/Nir Elias)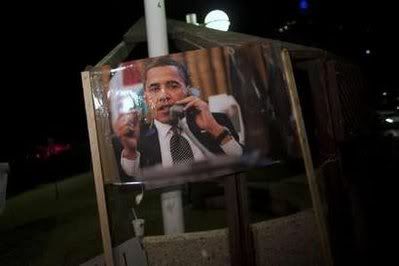 A poster of U.S. President Barack Obama is seen after eggs were thrown at it during an Israeli right wing protest. (
Reuters
)"