Jimmy Carter has either lost his mind or is growing senile. He still hasn't admitted how badly he got defeated by Reagan in the 1980 election.
That was back in the years of my idiocy. I actually voted for that man. The memory of that is enough to create nightmares.
Read from
Weasel Zippers
:
Jimmy Carter Take a Break From Bashing Israel Just Long Enough to Claim Reagan Beat Him Because of 3rd Party Candidate
…
"'Ronald Reagan only had less than 51% of the vote, but he won because of a third-party candidate.'
If you were to suspend reality and assume Carter got all of John Anderson's 6.6%, Jimmah still would have lost both the popular and the electoral vote…
1980 election results":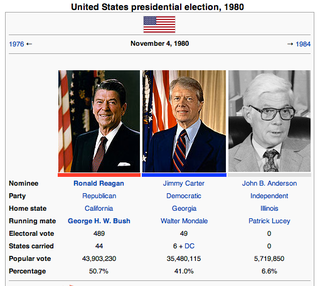 It's time for our genius ex-president to re-learn some basic math skills. Repeat after me: 41.0% + 6.6% = 47.6%, which is less than the 50.7% earned by Reagan. You would have been the loser even without John Anderson in the race.