I can't stop laughing. My, how times have changed. Just two years ago, Americans were flocking to see their rock star, Senator Barack Obama. Now, it's almost to the point that tickets to see the socialist/Marxist president are being given away. If he were wise, he would stay home because his presence is not an asset to his liberal colleagues fighting to retain their seats in Congress.
Read from
Gateway Pundit
:
MO Dems Can't Sell Tickets to See Obama; Cut Price in Half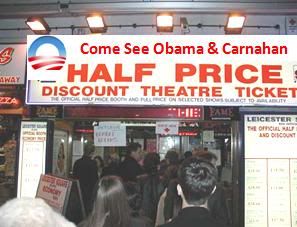 "Far Left Democrat Robin Carnahan was forced to cut ticket prices in half after she couldn't sell out a fundraiser in Kansas City to see
socialist
Barack Obama.
Hotline On Call
reported:
'
Pres. Obama is the best fundraiser the Dem Party has, but his drawing power is way down from its peak during the '08 campaign.

Obama is heading to MO and NV today to raise money for Sec/State Robin Carnahan (D), running for an open Senate seat, and Senate Maj. Leader Harry Reid.

But Carnahan's campaign wasn't able to completely sell out the Folly Theater, where Obama will appear for a grassroots event on Carnahan's behalf, at the prices they wanted. Tickets once priced at $250 are now going for $99, while $35 tickets are half off.

The grassroots event at the 1,078-seat theater is expected to net $250K for Carnahan's campaign, the Kansas City Star reported today
.'"