A year and a half ago, America was in the midst of a love affair with its President-Elect, Barack Obama. The media had built him up as some kind of supernatural hero who would come into office and heal all our nation's problems, from the economic woes to our international conflicts. Obama, of course, went right along with the hero worship, as each day his head began to swell in greater and greater self-adoration. The entire scenario was absolutely ridiculous as no human can fulfill the expectations Kool-Aid-drinking Americans had for this America-hating politician.
But, as is always the case, reality sank in as the unemployment numbers soared right along with our nation's debt. People began to realize that Obama would not be lowering their taxes after all. Somehow, all the soaring rhetoric did not solve the troubles in our country.
All that being said, leads us to new polling results for President Obama which shows his approval numbers nose-diving. Even my ultra-liberal parents are disappointed in their ex-hero. Over a week ago, my dad shared with me that he isn't sure that he's a liberal anymore, and my mother, who normally speaks adoringly of Obama, is, all of a sudden, singing Bill Clinton's praises and silent about Obama.
Read from
Gallup
:
Obama's Highest Half-Year Approval Ratings in D.C., HawaiiWyoming, Idaho, Utah, and West Virginia residents were least likely to approve
PRINCETON, NJ -- "During the first half of 2010, residents of Hawaii and the District of Columbia were most likely to approve of the job Barack Obama is doing as president. His lowest approval ratings came from Wyoming residents. All told, there is
a 56 percentage-point gap between Obama's highest and lowest state ratings
.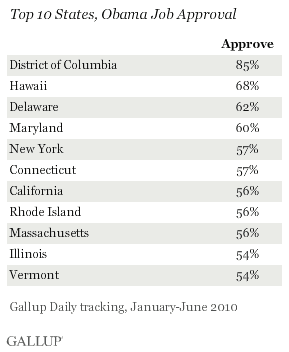 In general, Obama's greatest support is concentrated in the Northeast and Mid-Atlantic, including his current home (District of Columbia), but his past homes (Illinois and Hawaii) also rank among the top 10. Many of his lower approval ratings come from Mountain West and Southern states. New Hampshire stands apart from its Northeastern neighbors in giving Obama one of his lowest state job approval ratings.
These results are based on aggregated data from January-June 2010 Gallup Daily tracking, and includes interviews with more than 90,000 adults nationwide, including all 50 states and the District of Columbia. Each state's data are weighted to ensure they are representative of the adult population for that state, in terms of demographic characteristics.
Obama averaged 49% job approval on a nationwide basis in the first half of the year. He received at least 50% approval in 15 states and the District of Columbia, including four states with 60% or more approval. In nine states, his average approval rating was 40% or below. (See Page 2 for full data on each state.)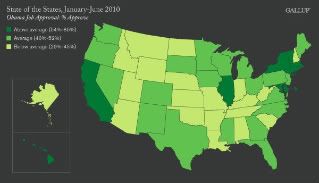 Obama's job approval has trended down since he took office -- his 49% nationwide approval average in the first half of 2010 compares with a 57% average for all of 2009. So far in 2010, his average approval ratings are down from the full 2009 averages in all states except Delaware, where the rating is similar (61% in 2009 and 62% thus far in 2010).
In general, the highest- and lowest-approving states for Obama in the first half of 2010 are similar to those for all of 2009. In 2009, his highest approval ratings were in the District of Columbia, Hawaii, and Maryland, and his lowest in Wyoming, Idaho, West Virginia, and Alaska."
Check this shocking tidbit showing that
64% of Democrats
support keeping the Bush tax cuts. Yes, you read that right--Democrats.