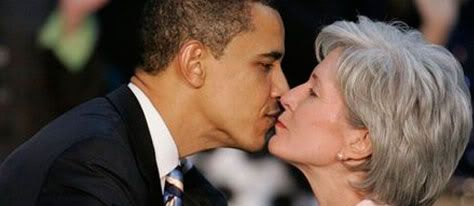 Two peas in a pod
On a scale of one to ten, with ten being the worst, I give Health and Human Services Secretary Kathleen Sebelius a big fat 9 on the evil chart. Not only did she
not pay her taxes
, which is
common practice for Obama officials
, but
she was the one who made it possible
for the even more evil late-term abortionist George Tiller to earn the nickname "George Tiller the Baby Killer".
Why is this worth mentioning? Because this woman will soon be making decisions which affect the healthcare of every American. If late-term abortions on babies who could survive outside the womb does not cause prick her conscience, I don't suppose rationed healthcare for the elderly will ruffle her feathers either.
Read about this horrible excuse for a woman from the
American Spectator
:
The Empress of ObamaCare
By Philip Klein
"Nancy Pelosi has often been referred to as 'the most powerful woman in America' for her ability to wrangle votes for major legislation. But, after muscling through the massive new national health care law this March, the House Speaker has some tough competition.
As Democrats in Congress rushed to pass a health care overhaul of stunning scope, they didn't bother working out key details about how the new law would be implemented. Instead,
they left many crucial decisions in the hands of one woman: Secretary of Health and Human Services Kathleen Sebelius
.
There are
more than 2,500 references to the secretary of HHS in the health care law
(in most cases she's simply mentioned as 'the Secretary'). A further breakdown finds that there are
more than 700 instances in which the Secretary is instructed that she 'shall' do something, and more than 200 cases in which she 'may' take some form of regulatory action if she chooses. On 139 occasions, the law mentions decisions that the 'Secretary determines.'
At times, the frequency of these mentions reaches comic heights. For instance, one section of the law reads:
'Each person to whom the Secretary provided information under subsection (d) shall report to the Secretary in such manner as the Secretary determines appropriate.
'
The powers given to Sebelius are wide ranging
. In the coming years, if she remains in office, the former Kansas governor will be able to determine what type of insurance coverage every American is required to have. She can influence what hospitals can participate in certain plans, can set up health insurance exchanges within states against their will, and even regulate McDonald's Happy Meals. She'll run pilot programs that Democrats have set up in an effort to control costs, and be in a position to dole out billions of dollars in grant money.
But the full breadth of her powers will be known only over time, due to the ambiguity of the language in many parts of the health care legislation. As conservatives make the case for repealing ObamaCare over the course of the next several years, it will be imperative to highlight the arbitrary new powers given to an unelected bureaucrat.
[...]
As a prominent female chief executive, Gov. Sebelius provided a key endorsement to Barack Obama in January 2008, when he found himself in a bitter primary battle with Hillary Clinton for the Democratic presidential nomination. Sebelius had been floated as a possible vice-presidential choice because many political observers thought Obama would have to pick a female running mate to mollify women voters still miffed about the outcome of the nomination fight. Though she didn't ultimately get chosen for the number-two slot, Sebelius emerged as a natural pick for secretary of HHS after President Obama's first choice, Tom Daschle, had to withdraw for failure to pay taxes. Despite objections among conservatives to her record on life issues, specifically
donations she received from late-term abortion provider George Tiller
, Sebelius was confirmed to her post with 65 votes in the Senate.
Read it all
."