Is it really necessary to ask political question to beauty pageant contestants? Like most forms of entertainment, beauty pageants are heavily influenced by leftists. Therefore, the questions which they ask the contestants are set up as "gotcha" moments.
If a participant dares to answer with a response which is in any way conservative, she will pay the price for not appearing liberal enough
.
Carrie Prejean
, last year's first-runner-up, suffered for doing just that.
Which brings us to the 2010 Miss U.S.A. pageant.
Miss Oklahoma dared to opine with a politically incorrect answer to a question about illegal immigration
, which may have cost her the title and resulted in her becoming the first-runner-up. Unfortunately, we will never know the truth behind that decision.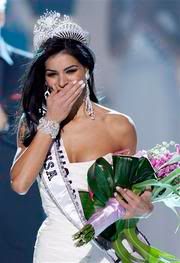 In all fairness, the winner, Miss Michigan Rima Fakih, an Arab American and Muslim with roots in Lebanon, was drop-dead gorgeous. But, it is interesting to note that
she has relatives who are members of the terrorist group Hezbollah
. You may remember that it was Hezbollah which was responsible for the Beirut
Marine barracks killings in 1983
which resulted in the death of 241 Americans.
Perhaps, the judge should have asked Rima, as a
commenter
at Gateway Pundit suggested, if she accepted Israel's right to exist. Another appropriate question would be: Would she denounce the terrorist acts committed by her Lebanese family members against innocent Israelis? Or maybe they should have asked her how, as a Muslim, she could prance around nearly naked in a bikini when that goes against Muslim beliefs.
With the heavy dose of political correctness which caters to the Islamic faith, I wouldn't be surprised if her religion was as asset in her winning the title of Miss U.S.A.
Read from
Gateway Pundit
:
Figures. Miss Oklahoma Places Second in Miss America Contest After Saying She'd Support Arizona Immigration Law (Video)
"Miss Oklahoma
Morgan Elizabeth Woolard
was a
top contestant
for the
Miss USA
crown this year. But, after she came out
in support of the Arizona immigration law
she was forced to take a back seat to Miss Michigan. Miss Oklahoma was runner up in this year's competition.
Here is how she handled the
toughest political question
of the night:
Apparently, although a great majority of Americans (
62-73%
) agree with her, the judges didn't like her answer. She placed second.
Instead, Miss Michigan
Rima Fakih
, an Arab American whose family
reportedly has strong ties
to the Hezbollah terror organization, won the crown."
Here's where it get much more interesting, via
Debbie Schlussel
:
Donald Trump, Dhimmi: Miss Hezbollah Rima Fakih Wins Miss USA; Rigged for Muslima? Miss Oklahoma's Arizona Immigration Answer
By Debbie Schlussel
"It's a sad day in America but a very predictable one, given the politically correct, Islamo-pandering climate in which we're mired. The
Hezbollah-supporting Shi'ite Muslim, Miss Michigan Rima Fakih–whose bid for the pageant was financed by an Islamic terrorist and immigration fraud perpetrator–won the Miss USA contest.
I was on top of this story before anyone,
telling you about who Fakih is
and
her extremist and deadly ties
."
Read it all
.
More on the
modest Muslim beauty queen
who was
a pole-dancer
. Don't think for a moment that they will take her crown from her for her objectionable behavior. They wouldn't dare because they would have to deal with an angry CAIR and protests of Islamophobia.
As beautiful as she is, Miss Michigan was not without
her blunders
, calling birth control a "controlled substance".