America is facing a great danger from radical Islam. It used to be that we could count on terrorists to be Middle Eastern men. Though that is normally the case, which makes profiling necessary, the jihad has spread to blonde, blue-eyed American women. How on earth are we supposed to combat that element?
It's time for average Americans to wake up and face the fact that Islam is no "religion of peace", but instead a violent hate-filled religion whose purpose is the destruction of America as we know it.
Read about how "Jihad Jamie" got herself involved in the false cult and how she has indoctrinated her 6-year-old son into the jihadi lifestyle, via
Atlas Shrugs
:
Jihad Jamie's Jihad Spawn
"Her stepfather was a convert -- of course, he says she is a misunderstander of Islam: true taqiya spoken like a good Muslim.
Jihad Jamie is practicing pure Islam, and she is teaching her 6-year-old the same
.
Interesting that she hooked up with Zazi the nazi. Oh, the devout convert housewife raising her son up to
hate and murder has been released
.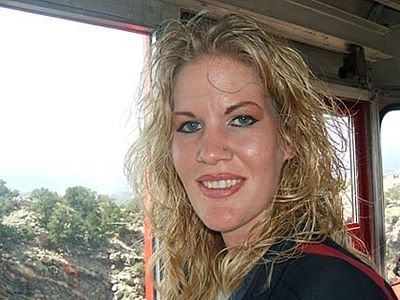 Boy Being Brainwashed by Mother, Grandparents Say
AOL News
(March 14) -- '
The mother of an American woman arrested in a terror probe worries her daughter is raising her 6-year-old son on the tenets of terrorism.

Jamie Paulin-Ramirez, 31, a nursing student from Colorado, was arrested in Ireland on Tuesday in connection with an alleged plot to kill controversial Swedish cartoonist Lars Vilks. Her arrest came days after news emerged that a Pennsylvania woman, Colleen LaRose, (nicknamed "Jihad Jane,") was indicted in Philadelphia on a plot to recruit terrorists and commit murder overseas.

Her mother, Christine Holcomb-Mott, is heartbroken and worried about Paulin-Ramirez's son, Christian, who she says is being exposed to her daughter's radical Islamic values.

"He said that Christians will burn in hellfire," Holcomb-Mott told The New York Post of a phone conversation with her grandson. "That's what they are teaching this baby."

The boy's grandmother said Christian's name has been changed to Walid and he is now attending a madrassa, or Muslim school, in Ireland.

"He's in an Islamic school," Holcomb-Mott's husband, George Mott, himself a convert to Islam, told the Post. "They're teaching him hate."

Paulin-Ramirez and Christian lived with the Motts at their Leadville, Colo., home for almost three years until last Sept. 11, when they say Paulin-Ramirez, who had recently converted to Islam, took off with Christian in tow. She later called from Ireland to say she had married a man she met online, who Christian later called "Ali."

The Motts continued to speak with Christian in phone conversations they say reveal the boy is being brainwashed. George Mott told the Post he believes his stepdaughter is exposing Christian to the building of pipe bombs.

"We are building pipes [pipe bombs], like the Fourth of July!" Mott said Christian told him.

Holcomb-Mott added that her daughter and her associates "taught him how to shoot a gun" and "taught him how to kick and fight," though Holcomb-Mott said she and her husband "won't even buy him a toy gun."

Mott, who converted to Islam decades ago, told the Wall Street Journal his stepdaughter lacked knowledge of the basic principles of Islam and did not truly understand the faith
.'
Deception and lies. She understands all too well.
'
He said she became radicalized after linking up to Islamic fundamentalists via the Internet, including a Colorado man named Najibullah Zazi, a suspected al-Qaida associate who pleaded guilty last month in a plot to set off bombs in the New York subway system.

Mott told the Journal he asked Paulin-Ramirez: "What are you going to do, strap a bomb on and blow up something?"
'"