The dictator in the White House and his minions have created a tyranny. Who in a million years would have thought America would come to this?
Read the latest poll results concerning ObamaCare from
Gateway Pundit
:
WOW! 62% of Americans Want GOP to Fight Unpopular Obamacare
"Americans are getting fed up with the leftist thugs and their socialist plans for America–
62% of Americans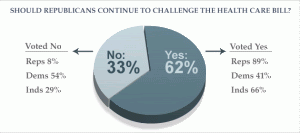 CBS
reported, via
Dan Riehl
:
'
A CBS News poll released Wednesday finds that nearly two in three Americans want Republicans in Congress to continue to challenge parts of the health care reform bill.

The Senate version of the legislation was passed by the House Sunday night, and President Obama signed it into law on Tuesday. The House also passed a separate reconciliation bill, which cannot be filibustered, that is now being debated in the Senate. That bill would make changes to the bill already signed into law.

Senate Republicans are now challenging whether the bill is truly a budget reconciliation bill (which is what makes it filibuster-proof) and inserting amendments designed to slow down passage. Republican attorneys general are also planning to challenge the constitutionality of the law.

The poll finds that 62 percent want Congressional Republicans to keep challenging the bill, while 33 percent say they should not do so. Nearly nine in ten Republicans and two in three independents want the GOP to keep challenging. Even 41 percent of Democrats support continued challenges
.'"
More from
Gateway Pundit
:
55% of Americans Want Obamacare Repealed; 52% Will Vote For Pro-Repeal Candidates
"So much for an Obamacare bounce… Most Americans want Pelosi's Christmas Present returned and repealed.
Rasmussen
reported:
'
Just before the House of Representatives passed sweeping health care legislation last Sunday, 41% of voters nationwide favored the legislation while 54% were opposed. Now that President Obama has signed the legislation into law, most voters want to see it repealed.

The latest Rasmussen Reports national telephone survey, conducted on the first two nights after the president signed the bill, shows that 55% favor repealing the legislation. Forty-two percent (42%) oppose repeal. Those figures include 46% who Strongly Favor repeal and 35% who Strongly Oppose it.

In terms of Election 2010, 52% say they'd vote for a candidate who favors repeal over one who does not. Forty-one percent (41%) would cast their vote for someone who opposes repeal.

Not surprisingly, Republicans overwhelmingly favor repeal while most Democrats are opposed. Among those not affiliated with either major party, 59% favor repeal, and 35% are against it
.'
The corruptocrats were hoping that once the bill was passed that Americans would rally around it.
Think again."