A year ago, conservatism was close to extinction. So said the American Pravda, as the nation buzzed with Obamania.
Who would have believed that so much could change in just one year? Thanks, Mr. President, we give you all the credit for the turn back to conservatism.
Democrats are dropping like flies, even in liberal states. Who in their right mind would have believed that Ted Kennedy's Senate seat would belong to a Republican? That sounds like something out of a dream.
Just as liberal Massachusetts has rejected Obama's tax-and-spend policies and his "let grandma die" healthcare rationing bill, so have other royal blue states. This outrage is taking its toll on Democrats in Congress.
Read about how Barbara Boxer's once considered safe seat is now in jeopardy, via
Michelle Malkin
: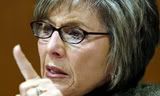 Senator Don't Call Me Ma'am is in trouble
"Maybe, finally, the grating arrogance of Babs Boxer is getting on Californians' nerves.
Top of the Ticket
reports:
'
For the second straight month the three-term senator is unable to break the 50% mark against any potential Republican opponents, the historical measuring mark of vulnerability for an incumbent nine months before an election.

For a Democrat in a Democrat state that gave Barack Obama 61% of its votes in 2008 (and still likes him more than many other places) to be mired in the mid-40's is a sign of real trouble. This is especially so given the fact that disgruntled voters gave Democrats control of the House, Senate and White House in 2008, expecting something to….

…happen beyond another congressional payraise. Voters appear to be looking at a the stubborn ineffectiveness of the much-vaunted economic stimulation bill, continued high unemployment and waning Obama approval. It's not like they don't know Boxer after all her years in the state's public life. To help with the warmth of money, Boxer has Al Gore's headline help fundraising.

Yes, sure, incumbents retain huge powers and money advantages over challengers and it's a long time until November, when the five-term ex-representative Boxer will turn 70. But nationally, indications are growing that 2010 could be a tidal wave election beyond the usual midterm swing with voters believing in a different kind of change to believe in.

Is it possible they could dump out a Democrat even in California
?'
Yes, you can!"