The Obama Administration does not have a clue about how to grow an economy, that is if they really actually want to grow an economy.
What do a bunch of Ivy League educators who have no private sector experience know about running a successful business
?
During an economic crisis, Americans vote for a president with no executive experience, and then he chooses a cabinet with the
least private sector experience in a century
. Doesn't instill much confidence.
Read from
Gateway Pundit
:
Americans Believe Business Leaders Make Better Economic Decisions… Obama Disagrees
"A majority of Americans believe that business leaders make better economic decisions than government hacks.
A new
Rasmussen Reports
national telephone survey finds that
51% of American adults believe decisions made by U.S. business leaders to help their own businesses grow will do more for the economy than decisions made by the government
. Thirty-three percent (33%) say decisions made by the government will do more.
Barack Obama disagrees.
Over 90 percent of Obama officials bring only public sector experience with them to the White House. This beats even Jimmy Carter
.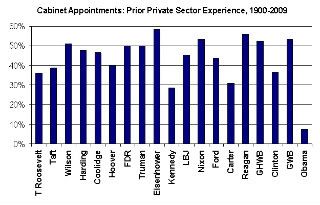 This helps explain the wacky decisions made by this administration. During his first year in office Barack Obama leaned on government
for practically every policy
he's pursued."