This is a disturbing story you are about to read. I'll make comments after the article.
From
Atlas Shrugs
:
Classroom apartheid: Teachers who were afraid to discipline thuggish minority of Muslim pupils for fear of being branded racist
"
Muslim thugs terrorize classrooms. These 'students' with their claw hammer weapons and their mobile phones with the World Trade Centers burning screensavers. Well, why not? It is all part of the global jihad
.
Classroom apartheid: Teachers who were afraid to discipline thuggish minority of Asian pupils for fear of being branded racist
By
Paul Bracchi
30th October 2009
'He gave his name as Henry Webster when he stepped into the witness box at the High Court in London last week. But he wasn't the Henry Webster his family and friends remember.
The real Henry Webster was a strapping 6ft 2in rugby player, not someone who
struggled to string sentences together and had to be given painkillers to complete his evidence
.
Instead of preparing for college or university,
he has been left with learning difficulties, short-term memory loss, and epilepsy
. Henry will settle for that because the alternative would have meant not being here at all.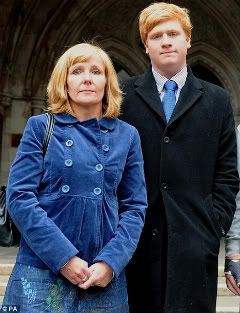 Victim: Henry Webster with his mother Elizabeth Webster at court where he is fighting to win damages from Ridgeway School in Swindon
This is the only upside of being attacked with a claw hammer that left an inch-deep impression on his skull.
One claw hammer and 12 teenage [Muslim] thugs versus one young man. Those were the odds when a gang of Asian (Muslim) youths ambushed him
.
After their work was done, his attackers punched the air in triumph - 'that's what you call Paki bashing,' they yelled.
The thugs have all been jailed. Not all the culprits, however, have been brought to book - not in the eyes of Henry's family, anyway. They believe
teachers at his school, near Swindon - where the assault took place in 2007 when Henry was just 15 - are as guilty as the actual perpetrators themselves
.
Why? Because, they say,
the school allowed ethnic minority pupils to get away with flagrant misbehaviour, and then handed them less severe punishments than their white classmates because staff feared they might otherwise be accused of racism
.
In other words, a culture of 'educational apartheid' prevailed in all but name at Ridgeway School.
Had this not been the case, Henry's parents insist, their son would probably not have
sustained brain damage outside the school tennis courts
one day in January nearly three years ago.
They have now brought a civil action against Ridgeway and are seeking compensation of up to £1 million. The allegations amount to a devastating indictment not just of Ridgeway, but of policies that were supposed to lead to integration, not segregation, in our schools
.
Our own investigation into the events which culminated in Henry Webster being left for dead within walking distance of his classroom does little to counter that view.
Remember, this is not some inner city hell hole. Swindon (population 200,000) is often used for market research purposes precisely because it is considered to be
a typical British town
; neither the best nor the worst place to live, just average.
Ridgeway School, too, is average.
Only about 70 - 5 per cent - of the 1,400 or so pupils are from ethnic minorities
.
Exam results are good, and the school continues to receive glowing government reports. Only last year,
Ridgeway's headmaster Steven Colledge, who took over in September 2006, was praised by Ofsted inspectors as "Outstanding" for his "leadership and management" skills
.
But anyone who saw his performance on Channel 4 News the day after Henry Webster was attacked might beg to differ.
"
I think there is always a danger where there is a mixture of races and peoples which reflect the community we live in that any tension that might exist, any little scuffle or fight, can be twisted to be much more of a major thing than it really is
," he told the cameras.
No, this is not a misquotation.
He really did use the words 'little scuffle' to describe the attack in which Henry Webster was left brain damaged
.
Furthermore, in the immediate aftermath, neither the "outstanding" Mr Colledge nor any of his colleagues visited the Webster family or even sent a get well card. Mr Colledge later told a governors' inquiry that gestures such as sending cards or flowers "were not in his nature".
Parents and former staff say that multiculturalism at Ridgeway, under his leadership, meant pupils on both sides of the religious and cultural divide breathing the same air but sharing very little else.
Asian (Muslim) youngsters, we have been told, had their own officially designated meeting room which, to all intents and purposes, became the unofficial base for a 30-strong crew known as the "Asian Invasion" and the "Broad Street Massive
".
Many, if not all 12, of those convicted of assaulting Henry belonged to the gang and lived mainly in the vicinity of Broad Street in Swindon. Four of them were still pupils at Ridgeway. They would often call older relatives and friends from outside school to settle disputes.
One such was Wasif Khan, then 18, who was the person who wielded the claw hammer. He was a "wannabe militant", according to the police, and carried on his mobile phone a screensaver of the collapse of the World Trade Centre
. A number of accomplices used social networking sites to communicate their message.'"
Political correctness gone mad! Yes, violence in schools occurs in all religions. That is not the issue here.
The disturbing aspect of this crime is the weak response by the school headmaster to the severity of the crimes committed by the young Muslim thugs and his history of refusing to discipline these gansters
.
A crime must be punished whether it is committed by a Muslim, Christian, Jew, etc. The religion of the perpetrator should not be a factor.
When authorities are fearful and refuse to confront evil acts by those of the "religion of peace", they are only emboldening them to commit more crimes
.
The Brits had better step up to the plate and do something about Islamic violence, and NOW, or they will lose their country
. Perhaps, America should play close attention. It seems that much of what happens there eventually comes our way.