Americans are falling out of love with Barack Obama. Since late June, I have been reading his
presidential approval index
on a daily basis. That number is determined by taking the difference between those who strongly approve of his performance and those who strongly disapprove.
June 29th was the last time Obama's approvals were higher than his disapprovals
.
To get an idea of just how far his popularity has dropped,
his approval index was +30 on January 22nd,
back when many Americans viewed him as our savior come to rescue and restore our economy. What a joke that has proven to be! How's that "hope and change" working out for you now?
Read from
Gateway Pundit
:
President Obama's approval index has slid
45 points
since January.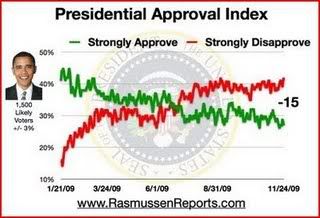 (
Rasmussen Reports
)
Rasmussen reported
:
'The Rasmussen Reports daily Presidential Tracking Poll for Tuesday shows that 27% of the nation's voters Strongly Approve of the way that Barack Obama is performing his role as President. Forty-two percent (42%) Strongly Disapprove giving Obama a Presidential Approval Index rating of -15. This is the lowest Approval Index rating yet measured for President Obama (see trends).

Fifty-two percent (52%) of Democrats Strongly Approve while 68% of Republicans Strongly Disapprove. Among those not affiliated with either major political party, just 16% Strongly Approve and 51% Strongly Disapprove (see other recent demographic highlights from the tracking poll).
'
Obama ties
Bill Clinton
in the November presidential rankings."