For those who get nauseous just at the mention of Sarah Palin, perhaps you had better reach for your vomit bag before reading the following story.
Hold on to your hats! Sarah Palin has higher favorables than Barack Obama. Who would have thunk it?
From
Gateway Pundit
:
Goodness. Sarah Palin Favorable Rating 47%… Barack Obama Job Approval Rating 46%
"
Bill O'Reilly
reported on the the latest FOX News poll tonight.
Sarah Palin's favorable rating is now at 47%
: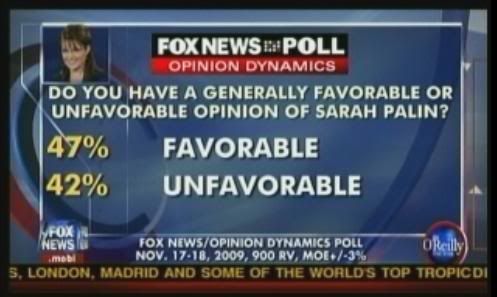 Meanwhile,
Barack Obama's job approval rating is now at 46
%:
This was reported earlier on Palin's rising star.
FOX News
reported:
'As Sarah Palin blankets the media on a whirlwind book promotion tour, the former vice-presidential contender is clearly back on America's radar screen. Despite being characterized by many as a divisive force in her party and the nation, Americans are much more likely to give Palin a positive rating (47 percent favorable) than another prominent female leader — Speaker of the House Nancy Pelosi (28 percent favorable). Moreover,
about six in 10 Americans (61 percent) think Palin has been treated unfairly by the press
, according to the latest Fox News poll.'
Wait until the state-run media hears this.
Hah."
Now, granted, polls change from day to day. But, just the same,
this has to have Democrats terrified. And at such an early point in Obama's presidency
. Why, he has only begun to destroy our nation. What will several years of his destructive policies do to his ratings?