Dear Rifqa is being thrown to the wolves. Authorities refuse to recognize the danger this young girl faces because they dare not offend Muslims.
A Florida judge has ruled that she be sent back to Ohio. No mention of the immigration papers that the judge had previously requested in order for her to be sent back to Ohio.
Read from
Atlas Shrugs
:
Judge Orders Rifqa Bary back to Ohio Despite Islamic Threat
"Rifqa's father, Mohamed Bary, was laughing and giddy during a brief Friday afternoon phone call with the Orlando Sentinel. He would not comment, though, citing a gag order.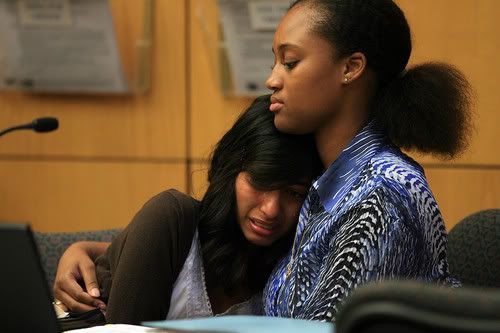 Judge orders Fathima Rifqa Bary to return to Ohio
'A DCF spokeswoman just confirmed her agency received an order from Circuit Judge Daniel Dawson.
"This order indicates that the Court has relinquished its emergency jurisdiction and orders the Department to arrange the transportation of the child to the proper authorities with Franklin County Children Services in Ohio," spokeswoman Carrie Hoeppner said
"The Department will proceed with those arrangements. Please understand that the details of the transfer will not be released, to best ensure her safety.
Rifqa's private attorney, John Stemberger, has not returned phone calls seeking comment.Rifqa said she feared her Muslim father would harm or kill her because she converted to Christianity. She sought shelter with husband-and-wife pastors in Orlando, and lived with their family for several weeks.
Investigators in Florida and Ohio said they found no threats against Rifqa.'"
Read it all and be sure to look at the endless number of photos of honor killing victims
.