Liberal indoctrination, complements of the U.S. public school system.
Guess what? Liberals were right; there was no harm in President Obama's speech to American school students, at least after he was cornered on his "how can you help the president?" nonsense and forced to exclude it.
Many conservatives were outraged by the president speaking to their children. Obama actually is not the villain here.
Take a look at what our teachers are subjecting our children to
, via
Gateway Pundit
:
Sick. School Children Taught to Sing Praises to Obama
"
The radical left is now teaching American youth to sing praises to Obama
:
Hat Tip
Steve Tum
From the
video
: This was filmed around June 19, 2009 at the
B. Bernice Young Elementary School
in Burlington, NJ.
'Barack Hussein Obama
He said that all must lend a hand [?]
To make this country strong again
Mmm, mmm, mm!
Barack Hussein Obama
He said we must be clear today
Equal work means equal pay
Mmm, mmm, mm!
Barack Hussein Obama
He said that we must take a stand
To make sure everyone gets a chance
Mmm, mmm, mm!
Barack Hussein Obama
He said Red, Yellow, Black or White
All are equal in his sight
Mmm, mmm, mm!
Barack Hussein Obama
Yes
Mmm, mmm, mm!
Barack Hussein Obama
segue to
Hello,
Mr. President we honor you today!
For all your great accomplishments
, we all [do? doth??] say "hooray!"
Hooray Mr. President! You're number one!
The first Black American to lead this great na-TION!
Hooray, Mr. President something-something-some
A-something-something-something-some economy is number one again!
Hooray Mr. President, we're really proud of you!
And the same for all Americans [in?] the great Red White and Blue!
So something Mr. President we all just something-some,
So here's a hearty hip-hooray a-something-something-some!
Hip, hip hooray! (3x)'
Of course, we've seen this sort of thing before.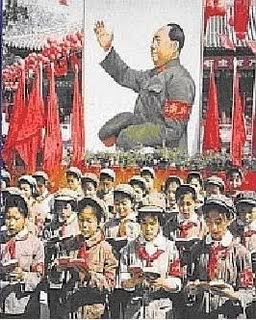 "
And, from
Michelle Malkin
:
More Dear Leader in the classroom: Obamacare propaganda pop quiz
!
"From my friends at
Smart Girl Politics
, you'll love the
propaganda quiz that one student brought home from class after watching President Obama's joint address to Congress on health care
.
Here's an excerpt: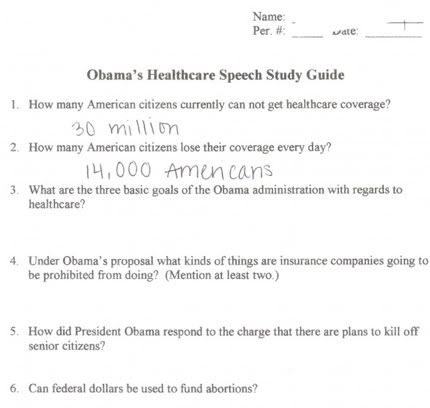 Check out SGP for the rest of the story.
"
Can you even begin to imagine the hysteria that would arise from the left if this had happened during the Bush years? Not that it would have. Teachers are overwhelmingly liberal.