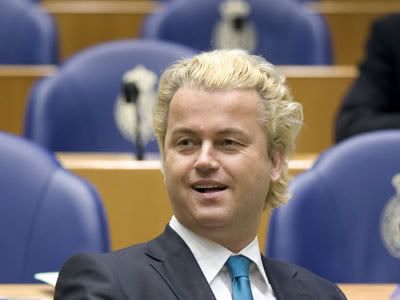 My guy, Geert, is waking up the Dutch to the threat of the Islamization of Europe. Read about the growth in popularity of the courageous Dutch politician Geert Wilders, via
Atlas Shrugs
:
We are #1: Geert Wilders Is Now Biggest Party in All Polls
"Despite the assault on the free world made possible by an OIC driven UN and cowering political elites,
free men get it
.
Wilders not only speaks for the Dutch, he speaks for all of us. He loves liberty. He loves the West. We will win.
Geert Wilders Now Biggest Party in All Polls
(Europe News)
Netherlands Info Services
06 July 2009
'
THE HAGUE. For the first time, the Party for Freedom (PVV) is the top-scoring party in both leading opinion polls. Geert Wilders' party reached this position in Maurice de Hond's poll three months ago, and has now come top in the Synovate poll as well.

According to the Synovate Political Barometer, the PVV would win 32 of the 150 Lower House seats if elections were held now. This makes it the largest party, although the Christian Democrats (CDA) also score 32 seats. The PVV currently holds 9 Lower House seats and the CDA 41.

Without apparent reason, the PVV has jumped from 23 to 32 seats in the Political Barometer, drawn up on behalf of TV programme Nova, over the past month. In the polls held by Maurice de Hond, the PVV has been stable at or around 32 seats for months.

In the latest barometer, Labour (PvdA) scores 21 seats. The socialists (SP) also show a substantial loss, with
(...)'"
Go, Geert!