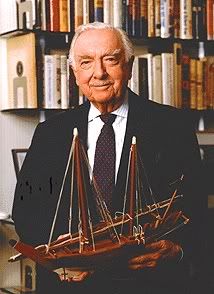 The corrupt American Pravda has a new source of distraction to keep the American people from finding out all the dirty little details about Obama Care and about how radical the reverse racist, anti-gun activist Judge Sotomayor is. They went well beyond the news life on the death of Michael Jackson,
but now they have a new story for which they will be preoccupied while Obama and his leftist comrades in Congress move towards destroying our economy and turning America into a socialist nation
.
Like any other American, I am sorry to hear about the death of the legendary Walter Cronkite. Nearly everyone from my generation remembers his famous closings words as he signed off from his news broadcast each evening, "And that's the way it is".
Cronkite had the reputation for being "
the most trusted man in America
". But, is that an accurate image for the famous CBS news anchor? I say "no" because he played a major role in America's defeat in the Vietnam War with his biased coverage.
Most Americans, even liberals, recognize that today's journalists are almost all left-leaning and don't make much of an effort to hide their lack of objectivity.
Cronkite wasn't as obvious about his liberal leanings as the corrupt journalists of today. But, nevertheless, his biases were a factor in the American public's reaction to the Vietnam War, particularly when it came to his reporting on the Tet Offensive
.
Read from
Debbie Schlussel
:
"We may have lost the Vietnam War on the ground because of half-hearted bureaucrats and politicians, not least among them Defense Secretary Robert McNamara who also recently passed away. But, well before that,
we lost the war in a far more important theater--domestic America--because Vietnam's top media general on TV, Walter Cronkite, led many offensives against our troops, every single evening
.
Cronkite fought against America while in Vietnam, where he covered the Tet Offensive and lied about it to American wives, parents, and siblings of our boys on the battlefield. While the 1968 Tet Offensive was actually a victory--a tactical defeat for the Communist Viet Cong--you'd hardly know it, since Cronkite covered it as an incredible loss and gave fuel for the anti-war movement's fire and its allies in the Congress and in Hollywood (Hanoi Jane, anyone?)." UPDATE
: I can't stop laughing. Cronkite once said that, "
the smartest President he ever met was Jimmy Carter
".