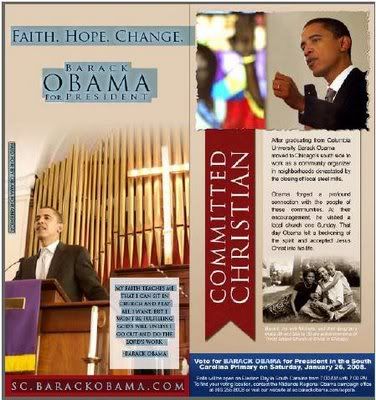 How could we possibly forget this committed Christian brochure that Barack Obama used to convince the American people to believe that he was a man devoted to faith in Christ.
Was that a complete farce, or what? America, I think you've been swindled
.
Still searching for a church, are you, Mr. President?
Read from
One News Now
about how
this "committed Christian" essentially mocks Christians who stand by the Word of God regarding homosexuality and says that we "hold fast to worn arguments and old attitudes". Does that not show contempt for God's Word? You may be the leader of the free world, Mr. President, but you may not rewrite the Bible
.
"A black evangelical Christian pastor and former NFL linebacker says there was '
absolutely no truth in anything' President Obama said in his speech to homosexuals
in the East Room of the White House Monday.
President Obama promised LGBT (lesbian, gay, bisexual and transgender) supporters Monday at a White House 'gay pride' celebration that
he 'will continue to be an ally and a champion' for their agenda
, once again vowing he will repeal the Defense of Marriage Act and the military's 'don't ask, don't tell' policy.
Ken Hutcherson, senior pastor of Antioch Bible Church in Washington state, says
it is 'a shame' that the president is 'supporting what destroys the family
.'
'There's absolutely no truth in anything he said, from beginning to the end,' says Pastor Hutcherson. '
There is no such thing as [a] biblical stance for homosexuality, if you use the Bible
. If you want to use any other denomination, feel free -- but where I stand is...biblical; it is marriage between one man [and] one woman, and that is the relationship, heterosexual, that is ordained, blessed, and called by God.'
In his talk, Obama acknowledged that many Americans still disapprove of homosexuality. '
There are still fellow citizens, perhaps neighbors or even family members and loved ones, who still hold fast to worn arguments and old attitudes
,' he stated. (
See related article
) Hutcherson says those comments demonstrate the president has contempt for more than just conservative Christians.
'
I think this president has a disdain for anyone who disagrees with anything about him
-- don't just limit it to Christians and conservatives,' he remarks. 'Brother, this man doesn't like anyone who doesn't think he's the smartest man in the world.'
Also from
One News Now
:
"Hutcherson expresses disgust with evangelicals who still support President Obama, despite his promotion of policies that are at odds with Scripture. He says such individuals are part of the '
evangellyfish
' movement in America.
'A person can be as black as a piece of coal, [but] if he goes against God's biblical views, I would not support him, I would not endorse him, I would not even give a smile in his direction so people could even think that I endorse him,' he states, '
because God is my God, the Bible is my playbook, and I run it the way it is written
.'"
AMEN, brother.