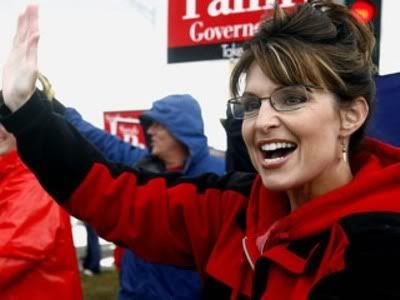 The liberals' biggest nightmare is about to come true.
The fiercely patriotic Sarah Palin will throw herself into the political ring and fight for her country--the one we all knew and loved before it came under complete Democratic control, not the socialist empire Obama has formed in his short reign as socialist-in-chief
.
The blood pressure of Democrats is about to soar. Before it's all said and done, they may wish Palin was back governing in far-away Alaska.
Read from the
Patriot Room
:
On Palin, Levin and Kristol Have it Right
"Everybody's got an opinion on Sarah Palin's resignation and
The Anchoress
wins the prize for collecting them all. But barring some reason that she literally cannot physically run for president, she's running. Behold
Mark Levin's
entire piece at The Corner.
'
Palin is running for president, get used to it
.'
The reason is pretty simple.
Sarah Palin loves America. And she knows we are a hair's breadth from losing much of what we and millions of our countrymen have painstakingly built with sweat and blood over more than two centuries
.
She knows that Cap and Trade is not just another piece of legislation. It is a hollow point bullet aimed straight at the heart of the American economy. She knows that health care reform is designed to, and will, utterly devastate the quality and availability of health care that is currently the best the world has ever known. She knows that American presidents don't nationalize automakers. Third-world dictators do that
.
Sarah Palin has five children. She doesn't want to subject them to a future of soft tyranny and poverty.
But unlike nearly every other American, Sarah Palin can do something about it.
Conservatives know she is the real thing. And so do Liberals. How else to explain the daily, spittle-flecked rage spewed at her and her family? Is there anything about Sarah Palin that is vile, repugnant, or amoral? There is one thing and only one thing driving the Left's hatred of Sarah Palin: fear. It is the fear that she is the next Reagan, who was viciously attacked in the same way
. It is the fear that she will, through her classic American values and sensibility (think Truman), sweep all the rubes in flyover country into a tidal wave of support and decimate Liberal power.
Palin is not your standard politician
. She is not Mitt Romney, John McCain, or Mike Huckabee. To judge her by the standard playbook is a fool's errand. There is no playbook for people like Sarah Palin, just like there was no playbook for Barack Obama. So when you hear folks speculating that her career is over for whatever reason, e.g., she will be seen as a less-than-one-term governor or she doesn't have enough experience, remember that our side (and the Clintons) said that about our current president.
Sarah Palin is the rare politician who can play by her own rules.
Bill Kristol
agrees.
'If Palin wants to run in 2012, why not do exactly what she announced today? It's an enormous gamble - but it could be a shrewd one.
After all, she's freeing herself from the duties of the governorship.
Now she can do her book, give speeches, travel the country and the world, campaign for others, meet people, get more educated on the issues - and without being criticized for neglecting her duties in Alaska.
I suppose she'll take a hit for leaving the governorship early - but how much of one? She's probably accomplished most of what she was going to get done as governor, and is leaving a sympatico lieutenant governor in charge.
And haven't conservatives been lamenting the lack of a national leader? Well, now she'll try to be that
. She may not succeed. Everything rests on her talents, and on her performance. She'll be under intense and hostile scrutiny, and she'll have to perform well.
All in all, it's going to be a high-wire act.
The odds are against her pulling it off. But I wouldn't bet against it.
'
Levin and Kristol are right,
Sarah Palin is here to stay. Get used to it
."