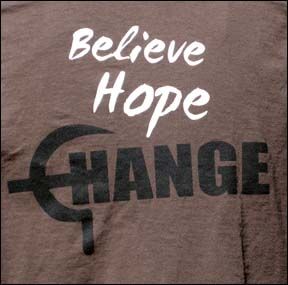 How are you enjoying that hope and change?
In the month of June alone, 473,000 Americans got to experience the effects of the Obama economic policy first-hand as their names were added to the ever-growing unemployment list
. Thanks a lot, President Obama. Your stimulus package was a costly joke.
Read about the results of the president's disastrous policies from
Gateway Pundit
:
Obama Disaster Update: 473,000 Jobs Lost In June
"The Obama disaster continues...
US Economy Continues to Hemorrhage Jobs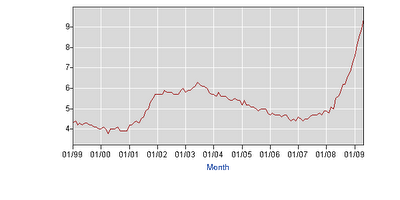 Bureau of Labor Statistics- via
Sweetness and Light
The US economy lost
598,000 jobs
in January
.
The US economy lost
706,000 jobs
in February
.
The US economy lost
742,000 jobs
in March
.
The US economy lost
545,000 jobs
in April
.
The US economy lost
485,000 jobs
in May
.
(May's numbers were adjusted after it was initially reported that
345,000
jobs were lost.)
And,
in June the US lost another 473,000 jobs
.
Reuters
reported:
'U.S. private sector job cuts fell in June to their lowest in eight months, but they still came in more than expected and the economy may be on track to lose another one million workers by year-end.
Private employers cut 473,000 jobs in June, down from 485,000 in May, according to a report by ADP Employer Services published on Wednesday. Economists surveyed by Reuters had expected 393,000 private-sector job cuts in June.
Though June's loss was the smallest ADP had reported since October 2008,
the surprisingly large number of cuts dealt a setback to those expecting the U.S. economy to recover soon
.'
But don't worry...
The state-run media says the Obama economy is roaring back
."